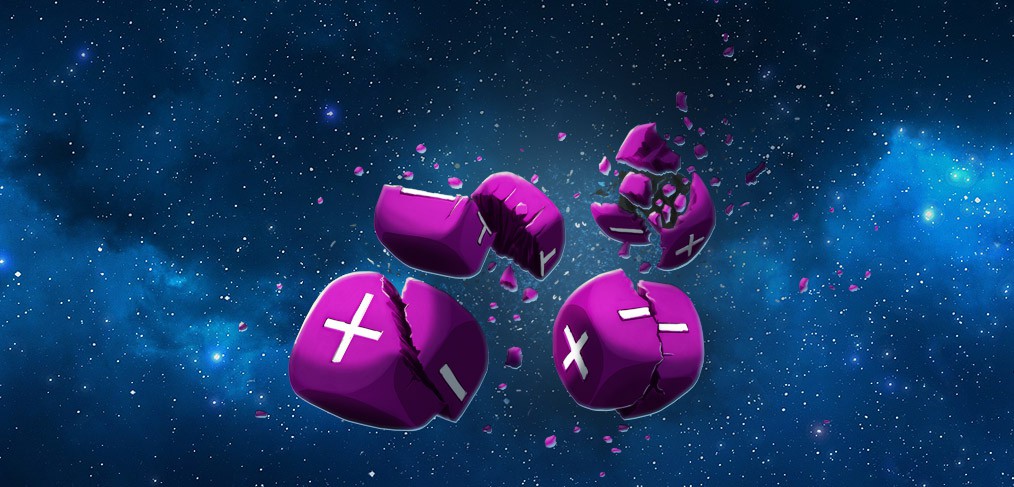 Uranium Chef, Kaiju Incorporated, NPC Cards
Evil Hat wuchten ja ordentlich was für Fate Core raus. Aber auch sonst gibt es Produkte auf die man hinweisen sollte:
Auch wenn der Autor Dave Joria ist der das großartige Masters of Umdaar geschrieben hat, das auch auf deutsch erhältlich ist wird Uranium Chef nicht unbedingt mein Spiel werden. Die Geschmäcker sind verschieden und evtl. ist für den ein oder anderen genau das richtige: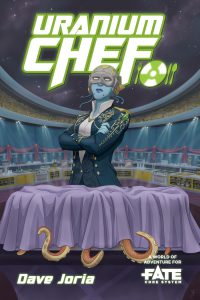 It's a big universe out there, but around every star, on every planet, the old saying holds true… we all gotta eat!
The most influential, inspired, or infamous chefs in the quadrant cook on Uranium Chef, the most popular cooking/bloodsport show on the neutrowave. Tighten your apron straps and hold on tight, as you'll have to survive surprise ingredients, full-contact kitchen combat, and the snootiest food critics in five dimensions. Will you wow the judges and woo the audience? Do you have what it takes to be crowned the new Uranium Chef—or will you get the chop? "Hitchhiker's Guide to the Galaxy" meets "Top Chef" in this new Fate World of Adventure by Dave Joria.

Uranium Chef requires Fate Accelerated to play. This 68-page supplement includes:
– Over-the-top kitchen combat, complete with robot grappling, radioactive cheddar, and man-eating space monsters fricasseed in butter

– Two sets of approaches, one for "reality", the other for cuisine

– Complete rules for running reality show style competitions in Fate, including on-air personas, secret motivations, and GM-controlled rivals

– A convenient cooking-show structure to make game creation easy, as well as plenty of sample characters, judges, and secret ingredients

– A detailed scoring system to facilitate fun dish judging

– A sample adventure: Out of the Frying Pan

Full contact cooking…in space!
Neutrowave channel 67,201.
Check your local spacetime listing for details.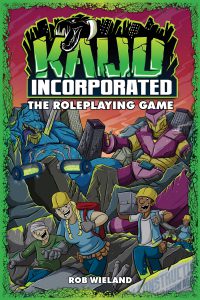 Weiter geht es dann auch direkt mit Kaiju Incorporated: The RPG. Was mich shcon eher ansprechen würde:
This Job's a Monster!

Jump into the lives of the workers for the world's biggest multinational Kaiju-conglomerates! Rebuilding the world following giant monster attacks takes a Kaiju-sized work-force. Do you have what it takes to face the hazards of mayhem, destruction, biohazardous waste, human resources, minimal career prospects, and really really big footprints? Find out in Kaiju Incorporated: The Roleplaying Game!

Kaiju Incorporated: The Roleplaying Game is full color supplement for Fate Core or Fate Accelerated. Inside, you'll find:
– Different types of Kaiju cleanup crews to make each campaign unique
– Mode-based character generation to easily create a balanced crew
– Hybrid stunts which offer more power for the character and more Fate points for the GM
– A Kaiju attack checklist to help GMs easily plot their next session or campaign
– Plenty of Kaiju and corporate employers to get your crew started

We will not be stopped by pools of goo, flying debris, bad traffic, or ridiculous HR policies! We will rebuild!
Der ein oder andere wird vielleicht Karten gebrauchen können. In der Redaktion haben wir so etwas schon besprochen und die ersten Layouts sind auch schon durch. Doch Karten sind recht teuer in der Produktion. Vielleicht helfen die NPC-Cards euch:
Here's another item to add to your GM toolkit: NPC Cards. These come in two different formats, a printable version and form-fillable individual cards. These follow the NPC creation structure in Fate Core, but can be used to make FAE NPCs as well as mobs and groups. And as always, they are free on DTRPG.
Der Autor Nathan Hare hat aber noch den Fate PC Tracker und das Fate Scenario Worksheet veröffentlicht.